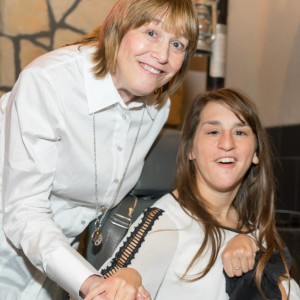 Blair Webb is a 24 year-old breath of fresh air with talents and plans. You know at first glance that you are in the presence of intelligence because it is clearly visible in her smile and reflected in her eyes. Her assistant, Megan Gill, who spends five days a week with Blair and accompanies her to school, says, "Blair is in a wheelchair and has cp and people have a hard time understanding her.  She is super-smart and witty."
Megan is essentially a loving and meticulous simultaneous translator who found this job on the internet. In answer to how Megan understands everything Blair says so easily, Megan says rather casually, "Because we have talked a lot. It just takes time." With Megan's help you get the words, but even without Megan's help you get the smile in Blair's heart, and the enthusiasm in her every thought that reflect the depth of her abilities.
Blair is an exceptional writer, joyful, smooth and clear. In high school she says she "knew she could write but people did not believe in me like they do here at PASW" where she has attended classes for 5 years, and where, thanks to John Paizis, every talent can shine brightly. Blair is very clear that is "because it is about looking at the abilities and not the disabilities." Listen to Blair talk about her acting, writing, college studies (sociology), and about her plans to create some sort of program for children with disabilities. And stay until the end when she pops back to share a fabulous business plan for American Girl.
Blair hopes to spend her life writing plays. "It has always been something I can do on my own." What would she like people to know about her? What is the most important thing to her about life? No one has ever asked her that before but she is ready with an answer, " For people not to judge me by my disability. And, to try to get to know me as a person."
Her love letter? Maybe yes and maybe no, but she is thinking about it. A letter from this loving smart young woman would be something to keep forever in the treasure box!