Carole Ita White was 6 months old when her father Jesse White brought the family to LA to join James Stewart and others for a role in the movie Harvey. And, despite the Hollywood of wealth, recognition, privilege, and glamor she was born into, it was, for her, just a normal kid's life of school, friends, and riding bikes around the neighborhood. It was not until her freshman year in college that she was asked about her personal history having nothing to do with her movie-star-studded life, but a whole other identity that took a turn she would never have guessed. Go figure.
Truth be told, she was always unique in the dearest most loving ways, which she credits to her mother and the values she was raised with. Her mother raised her nephew and took care of her father's mother. Carole Ita lived, for eight years, with her mother and two aunts, one of whom was in a wheelchair and needed constant and intimate care. Like her mother, never one to turn away from the distress or need of family, Carole Ita, assumed the role of caregiver.Not just talented, funny and intelligent, but a down-to-earth, unspoiled lovely person. How did that happen? She talks about her mother, one of 7 sisters and always a ring-leader of the group, who at the age of 15 was offered a scholarship to Barnard College that she had to turn down to work in a department store to bring money home to feed the family. Carole Ita says her mother "always had the philosophy of give, give, give." That is how Carole Ita got to be such a loving giving solid human being. By example and most likely a genetic gift as well. Extra treat here, listen and find out, if you don't already know, what her father's longest running television role was.
Listen to Carole Ita White and you will not hear an echo of the overbearing blowhard Big Rosie Greenbaum, Laverne & Shirley's nemesis who, whenever she swaggered onto the stage, gloated about her wealth and marriage to a successful doctor. Take a look at Big Rosie and you will not see the unassuming, openhanded, openhearted woman that is the real Carole Ita White. And, that, people, is just one of the indications that Carole Ita White is a fine actress.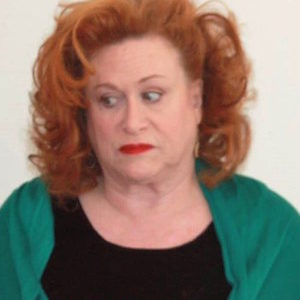 Carole Ita, in the spirit of her inherited "lend a hand" philosophy, talks about how her own diagnosis of Lupus has placed her in the role of spokesperson to help others. She has continued to act (so hip you can see her in the web series Child of the Seventies) , and is at present writing a one-woman show that, I am guessing, will be as candid, meaningful, funny and timely, and funny a bright a light in this world as Carole Ita always is.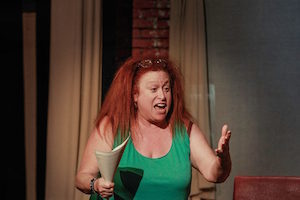 The letter she may write? It will carry the love and depth that defines Carole Ita White and will be not only a work of art but a work of heart because she communicates with such affection and is filled with love for the people in her life. So many possibilities for her to send a statement of love, but do get a box of Kleenex and hear who is getting this first one because Carole Ita White's story is, at its core, a love story.