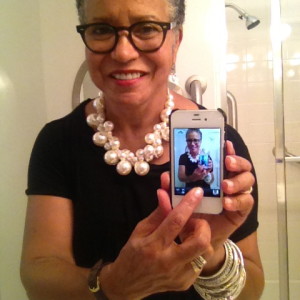 Faith Fancher was an award winning journalist, an exceptionally beautiful and accomplished woman, and an innovator who took her private battle with cancer public in order to raise awareness about breast cancer, the disease that did claim her life.
Faith documented every aspect of her surgery and treatment, a powerful collection of moments that aired on KTVU, channel 2 as "Faith's Story". Although Faith died in 2003, she is not gone from our midst as she has left, in her wake, a team of devoted illustrious friends who are carrying on what she began- approaching the challenge of diagnosis and treatment with enough strength and knowledge to let fear recede into the background so attention can be focused on treatment.
To hear Cheryl Ward, one of Faith's friends talk about Faith, the realities of facing a breast cancer diagnosis and her own mother-in-law who was diagnosed at the age of 89 (and still going strong at 98 by the way) is a lesson in making the world a better place. Cheryl is a dedicated letter writer, and the love letter she plans to write will surely be a legacy to all who come after her.
Friends of Faith are at work all year long to help low-income women who have been diagnosed with breast cancer and need a variety of services, the kind that are meant to soften the thud of the diagnosis. In answer to, "What do I do now?" " How do I pay my rent when I have to take time off for surgery," and "What is the doctor talking about?" it is the Friends of Faith who have some answers and compassionate practical solutions. Friday October 3rd , from 5 – 9  is Weather and Wine, an evening with a variety of options involving an inclusive tour of ABC channel 7, meeting anchors and learning about technical aspects. All this with elegant food prepared by Chef Ivan Giansante and presented by Il Fornaio restaurant as well as wines from the cellar of Spencer Christian.
For other opportunities to celebrate the joys of life in Faith Fancher's memory, take a look at http://www.faithfancher.org/volunteer.html and choose for yourself.