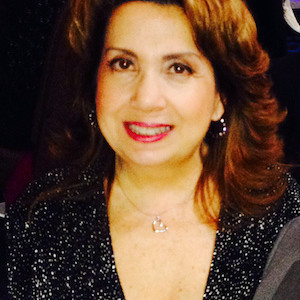 Good news. Dr. Marylou Naccarato, who says that if you think size matters you should go see her, is back with more on what may be the world's most compelling topic. Yes, sex. Marylou gets happily right to the point with a rare combination of serious, playful, wholesome and mischievous. Her last Love Letters Live episode was not only an introduction to an extraordinary woman but a broad overview of sexual issues facing little people and how a television show on the Kama Sutra shifted her life's work from the Internal Revenue Service to sex education and therapy.
Marylou is back to talk about another, but related, topic, keeping romance in sex  through her nine steps of heightening sexual intimacy with your partner (and yes, you may be your own partner). With her total lack of inhibition, it is no wonder that Dr. Marylou Naccarato is a successful sex therapist. She is compassionate, serious, thoughtful, and approaches each challenge with an intelligent plan, and she is so much fun to talk to that any issue is easy to tackle.
Marylou talks about what qualities to look for in a partner and how dizzyingly fast these traits can reveal themselves. How does a date handles stress? How does a person get along with an ex or relate to servers at a restaurant? Does this person have a passion in life? A desire to achieve a higher purpose of any sort? She talks about sexual compatibility and her own experience dating a very nice man with whom there was no chemistry. Deal breaker.
And, then there are her nine steps that evolved from a Valentine's Day workshop. She laughs as she says that every day is Valentine's Day for her so this advice is applicable all year long. You may have guessed that each step is taken from the letter of the word "VALENTINE." She gets pretty much the whole world of sex including non-intercourse sex, fantasy, romance, trust, daring (you will doubtless laugh out loud at her foray into sexual courage ), all worked into nine letters.
And, by the way, on the topic of love letters, that's in there, too. Under "Fantasy". How sexy can you get in a love letter? We here at Love Letters Live say knock yourself out in that regard, but be aware that someone like your grandchildren will likely find these letters some day. Good. Let them learn a little something about granny. And gramps. Not much beats a legacy of coming from a long line of passion. Take a few minutes to listen and be forever overjoyed by knowing Dr. Marylou Naccarato. Me? I find myself smiling every time I talk to her.