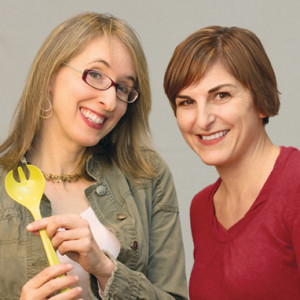 Equating food and love is an age-old natural. Truth be told, a beautifully prepared meal is packed with as many clear emotional messages as it is with vitamins and calories. Oysters or chocolate for romantic seduction, chicken soup to encourage healing, fudge and cookies to insure a holiday spirit, and we plan special menus to evoke dearly held memories.
Juliana Gallin, co-author with Robin Donovan of the new cookbook The Lazy Gourmet; Magnificent Meals Made Easy, reminds me that cooking for those we love can be very much like writing a love letter. She says, "I love to cook people's favorite foods for them. Often, when I'm cooking something special for someone—something that I know he or she particularly likes—I feel as if the message of "I love you" is loud and clear. At least it is to me. It's my way of showing that I remember something about that person, and that I was paying attention."
How is cooking for someone like a love letter? Oh, let me count the ways. They are both gifts given with no thought of what you get in return. The joy is in the creating. They are both acts of generosity that show consideration to what someone else likes, wants and needs. A great love letter, requires planning and often recalling memories that motivate and add joy to the preparation. Ditto with cooking as you can see in the kitchen tales from the authors of The Lazy Gourmet cookbook.Like a love letter, a culinary love message is visually compelling. The plates, platters and exquisitely set table are the equivalent of the stationery that carries the written message. As with a love letter, the meal you prepare has felt the touch of your hand. And, what about the way you end a letter? I have heard cooks talk about their "signature dishes".
I think a cook who brings his or her creation to the table for presentation must feel as complete and hopeful as the writer does when the love letter slips into the mail-slot. In both instances someone is going to be very happy. And, although we can't re-read even the most perfect meal, we will very possibly remember it and the cook forever.
You might want to see the Two Lazy Gourmets in person for some hints and kitchen merriment.A love letter, like a good meal, can be for anyone at any time and for any reason you want to express affection. If you think you need to wait for a special occasion to write a love letter or cook for someone you love, remember that love letters and cooking for someone you love are special occasions.I invite you to try your hand at making a magnificent meal for someone you love.
Consider this. You might slip a love note in your own handwriting under the fork or wine glass. And, a meal specially prepared for you with tender enthusiasm and hours of work is a chance for you to write a thank you love letter filled with the specifics you treasured about the meal and the cook.
From me to you with love in the air,
Janet