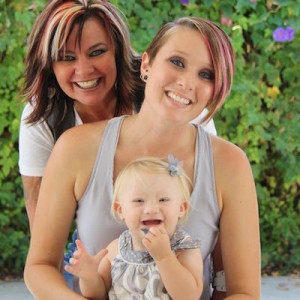 Keston and Andrea Ott-Dahl first saw their perfect and beautiful happily-kicking daughter in the ultrasound. This was a joyful day for everyone. Andrea, mother of two beautiful children from a previous relationship, was now the surrogate for another lesbian couple who had tried unsuccessfully for six years to have a baby. But the ultrasound showed something else to the doctor; the baby had Down Syndrome. It was a devastating day for Keston and Andrea and for the contract mothers who insisted Andrea terminate. Andrea and Keston, however, made a very conscious choice to keep this baby and raise her with love and every opportunity to thrive.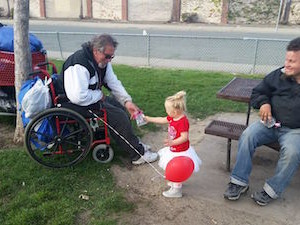 Andrea and Keston talk about how saving Delaney saved them, one from her own long-ago intolerance of people with Down Syndrome and the other for whom this pregnancy was a chance to right a wrong. Delaney, at two and a half years old, with the help of various therapists, right on target developmentally, and the family is having a very good time together.
There is, of course, a backstory to Keston's and Andrea's complicated, joyous life, so it is best to hear it in their own voices for the specifics of if how they met, how they helped each other through this challenging pregnancy and what else goes on in their very busy successful lives and families.
Their love letter? They know their book Saving Delaney, to be released April 12, 2016 with book signing if you would like to meet the family, is a love letter to each other and to their daughter, but what they say they would like to write to Delaney in a series of love letters may be surprising.