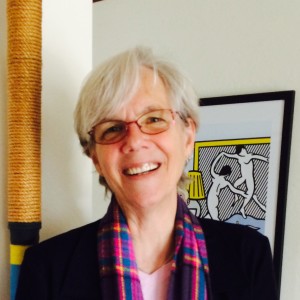 Lee Gant, as you may remember, walked into the world of knitting via her own dismal days of drugs and alcohol and found she had entered a territory where with every stitch came increased strength, health, joy and finally the power to bring that to others. She is back to talk to us about some of the people who have entered that same realm, people about whom she once knew nothing and about whom she learned most everything as they sat and knit together.
She talks about the woman whose gender she could not detect, why that was, and what became of this person and about a woman who could not keep her hands out of the basket of knitted goods for the homeless. She tells about a teen, one of 12 children, who was able, as she sat and knit with other girls, to share her private heartache and see that she was not alone in her despair. This is, of course, the tip of the iceberg. She knows you can learn knitting via youtube but says there is nothing like the arms of a teacher around you who assures you that you are doing just fine.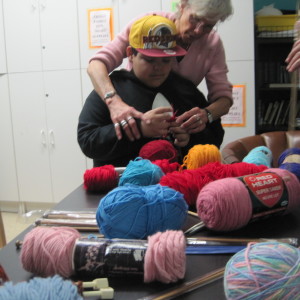 Her book Love in Every Stitch; Stories of Knitting and Healing brings others into our view, a little autistic boy who fell in love with the yarn and wanted only to learn how to knit, a girl who cuts, a woman who seemed to be slated to a life of depression. Lee's candor about her own path to emotional and creative health and how she went from a life of, as she says,  "me-me-me" to a life of helping others is worth hearing again and again, encouraging as it is.
She is a shining example of how it is possible to find your way through misery, defeat and more than one tip-toe past death's door to land at the vibrant success on every level that was waiting for her. The thoughtfulness, wonder and humor reflected in her own voice brings the lesson home. And, that lesson is, as Lee well knows, "Don't give up on yourself."