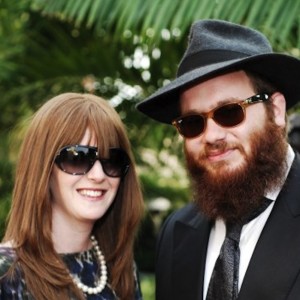 Miryum Mochkin, San Francisco native, community leader, wife, mother, and teacher is back to talk about Jewish life as she lives it. You may remember Miryum from her Love Letters Live in which she thanked the matchmaker who found the exactly perfect husband for her or her Love Letters Live about her rather unusual grandmother. This present discussion is about the bridal classes she gives to Jewish women who are about to take a most important life-changing step.
Miryum and her husband Rabbi Peretz Mochkin co-officiate at weddings. Starting well before the day of the complex ceremony, he prepares the groom and she the bride not just for the day of the wedding but for a lifetime together that will have good days and, yes, the other kind, too. But not to worry, there will be a third partner in the marriage to help through contentious times.
Miryum has a way of answering some difficult questions with joyful truths as she offers what may be, to many people, some surprising and delightful realities about the spiritual, emotional and sexual aspects of Jewish married life.
Listen to Miryum talk about all this and about what kind of love letters she will write to the brides, what implied message they will carry, and see if you don't find yourself smiling.