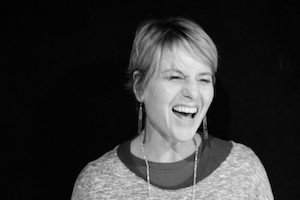 Pamela Holm, author of the hit play Lovesick, the Cat Allergy Musical, did not start writing until she was almost 30 and saw Postcards From the Edge. It was what she calls a Carrie Fisher moment, the first time she had seen "a smart-ass woman being funny and not being a bitch." Pamela knew she could do this. And does she ever! Does it so well that the play is returning in San Francisco for another run at a larger theater.
Following a successful career in the world of art, she started writing essays, sent them around and got published right away, so kept on writing articles that were funny. It was a wonderful journey from her own typewriter to being published despite her words, "sometimes having her teeth kicked in." But for Pamela who left home at 15 to get her own apartment, rebounding from challenge is part of life. She does it well and with indomitable humor.
She talks about being broke (one pair of shoes to her name) and a single mom finally taking a break to marry the one man her daughter liked, yes, a very good sign that led to her next book "The Toaster Broke So We're Getting Married a Memoir". Best to hear the necessary details of her life in her own voice – so just click on listen.
Her play is about obstacles to dating. In this case a cat who runs off every suitor. It was hard to look at anyone else when one person of this incomparable cast took center stage because each person, by turns, owned it with a singular charisma. The dauntless dateless woman Robin Coomer was fabulous as actress and singer, ditto Steffanos Xanthoudakis as the wickedly funny manipulative cat, and equally true of Lily Marcheschi and Michael Cai as tall mouse and short mouse with incomparable grace and hilarity ever dodging the cat. Kate Gibson was hilarious and right on target as a mother of a perpetually single daughter, Mikl Em took on the core of every one of the suitors with an ouchy-brilliance, and Guido was played with his usual gusto by Flash Hopkins (a co-founder of Burning Man) his firs foray onto the musical stage. Musicians Jim Fourniadis, song writer, music director and bassist, Phil Clevenger – Guitar, Matt Bertken – Drums, Den Mermell – Keyboard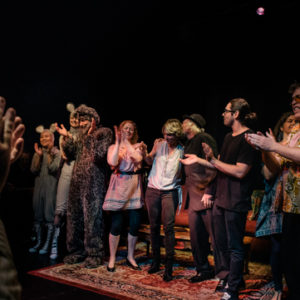 Pamela was hoping that she would fill all the seats for her first run. That she sold out pronto took her by surprise but given the talent and her reputation as a writer, it was no surprise at all. The new production starting June 29th has some cast changes so please take a look, and I would say get tickets for it before they sell out again.
Love letters? Listen to the possibilities. We here at Love Letters Live want to write one to each cast member!