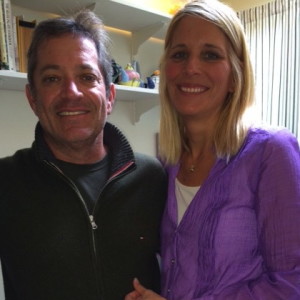 Stacy Millich  and John Gyselbrecht were, in the world of young love, made for each other. "We were lucky," she says, "because we found each other early when we were 19 and 20." He has a sense of humor that was unique, and she knew right away that she wanted to be around that for life as long as she could.
Life was privileged for each of them, with great lives, families, and friends. After practicing law for 15 years, she now teaches criminal justice. He is a loved middle-school math teacher about whom students have the most enthusiastic things to say but summed up in the words of one who said "ya'll mr. G is the best teacher i think I will ever ever have! if you haven't had him your like totally missing out!!!!! seriously"
On May 8th of this year the flow of their life was ruptured. John was having trouble swallowing. A simple outpatient procedure would, the doctor said, take care of what was first thought to be a narrowing esophagus. The scope detected a far worse problem. John had an advanced stomach cancer. To hear Stacy and John talk about the experience of a shocking diagnosis, what it requires of them as a couple and how their relationship changed is a lesson in the depth of real love. John knows that, for him, there is no cure today, but that has not stopped him from knowing a cure could come in however many tomorrows it may take. What he and Stacy have done for research into both treatment options and an eventual cure is a tribute to their indomitable spirit while offering hope to those who may by diagnosed with gastric cancer in days and years to come.
Stacy and John are awash in a world of love letters, those they have written to each other more than ever these days and those they have been receiving from friends offering love, friendship and support. Listen to Stacy and John talk about love letters they have written and will write. Stacy's will be in the form of a check they will present at the Gastric Cancer Foundation Gala this December 6th.
John's love letters? Yes, plural. Letters on paper in ink stamped and mailed to all the people who are there for him with love and support in so many ways including a loving reconnections with one particular family member and a generous donation to the Foundation from a childhood friend he would not recognize on the street today. All these letters are reminders of how many and how much people care about him, reminders of affection that has not dimmed over time and distance, and a reminder of how people want to help.  These letters are, he says, a gift of the cancer.