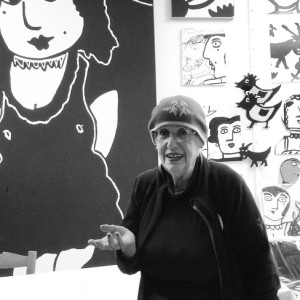 Toby Klayman is a one-of-a-kind person, artist, mother, daughter, wife teacher and friend. You may remember her first Love Letters Live about refusing what her parents had planned for her and having come to California as a young woman with a secret kept unspoken for 27 years except for the love letter in the court file. You may remember her second Love Letters Live where she talked about her opening the way for faculty to move into the then empty Fort Mason and pushing to get computers put into the department long before it was standard.
She says artists do not, as a rule, like to talk about themselves, nonetheless she gives a wonderful picture of what it is to be an artist, to make art, how to sell art in times of high technology, why it is important to teach her students how to live as artists and why being competitive is a waste of time. When people compare her to Matisse or Picasso, she points out simply enough that she and they all have the same influences.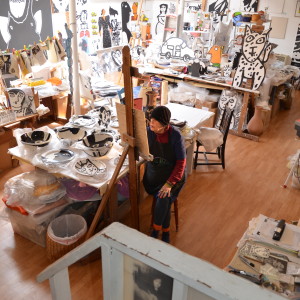 She talks about the obligation of artists to give art away to people who cannot afford art just as doctors must care for the sick who cannot afford care. Her newest art tool? The scissors. She has one in every room so she will not miss an opportunity to bring an idea to life and says, "Not a moment of more joy than drawing with a scissors." Her studio, bursting with light, energy, artwork and music is her manufacturing plant.
You may be surprised at who her influences are and which music she needs as her backdrop. You may be surprised at a lot of things, so listen to it all in her voice, a voice that carries the love and creative energy to speak for itself, to add, so to speak, to the picture.